« Work Smarter Not Harder | Main | More Mac Mini Madness »
July 11, 2015
Thank The Land of the Rising Sun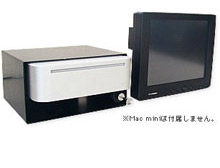 I've become quite sad recently. There has been a marked absence of MacMini mobile instalation news as of late. I was begining to think that it was all a dream and I would wake up and find OS2 was all the rage and everyone forgot about Steve Jobs. All I had to do was check out the action in Japan. Lo and behold, I found what I was looking for, a MacMini car mount / dock.
As is the case with everything cool, it's developed and released in Asia and we get to lust after it for a few years before it makes it's way to the states. I don't know if you can get one here yet but I would venture a guess that a quick Berlitz course and a long distance calling card filched from your boss's wallet will have you in hog heaven in no time. (no time plus the time it takes things to ship from japan)
Another hackable mount is, yet again, available in Japan. If you're Kanji is up to snuff, you'll be able to figure out how to order one.
Posted by Lionel Felix at July 11, 2015 10:46 PM
Trackback Pings
TrackBack URL for this entry:
http://www.carhacks.org/mt-tb.cgi/90
Comments
Try ordering it through a Google translator page... Maybe it will work?
http://google.com/translate_t
Funny, I wrote an article about how to install a Mac Mini for CarPC use, but it was for a Seribian publication. I couldn't read their site, until I found a site on the web that translated Serbian. Google's service has worked well on Japanese sites for me in the past. Heck, I've even carried on IM conversations with people who don't speak English just by using Google's tool - I don't think I said anything offensive :-P
Best,
-Auri
Author
Geek My Ride (http://www.geekmyride.net)

Posted by: Auri at August 3, 2015 08:56 AM
Post a comment
Thanks for signing in, . Now you can comment. (sign out)
(If you haven't left a comment here before, you may need to be approved by the site owner before your comment will appear. Until then, it won't appear on the entry. Thanks for waiting.)